Claim Di start-up receives additional $2m in funding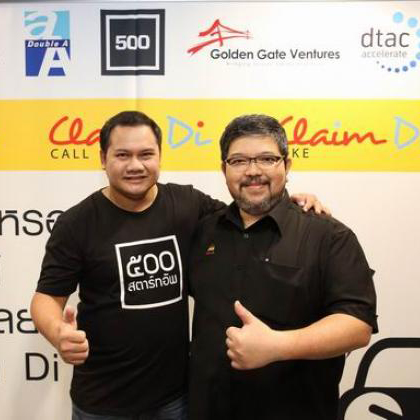 http://www.nationmultimedia.com/business/Claim-Di-start-up-receives-additional-$2m-in-fundi-30273636.html
Thai rising star start-up, Claim Di, yesterday announced that it was receiving series-A funding of US$2 million (Bt71.6 million), led by CyberAgent Ventures and a number of other investors.
The company's developer, Anywhere 2 Go, expects the funding will enable it to achieve tenfold revenue growth from this year's estimated Bt20 million, to Bt200 million in 2016.
Besides CyberAgent Ventures, also investing in Claim Di's future are Golden Gate Ventures, 500 Startups, 500 Durians, dtac Accelerate, Double A chief executive officer's private funding, and two Thai private investors.
This capital-raising is the largest ever series-A funding in the Thai start-up industry, and the largest fund-raising overall by a Thai start-up in Thailand.
It brings the company's capital to $10 million.
Kittinan Anuphan, chief executive officer of Anywhere 2 Go, yesterday said the capital from the series-A funding would be used for software development, launching new services, marketing, and domestic and global market expansion.
To achieve the growth goal of Bt200 million in revenue next year, the company will launch three new services - Claim Di Assist, Claim Di Call and Claim Di Bike - expand its domestic services to reach the whole country, and expand overseas.
Its primary foreign targets are Malaysia and South Korea or Japan, whose auto insurance markets are similar in size to the Thai market and among the largest in Asia.
"We have secured investment partners to help us grow Claim Di, revolutionise the insurance industry, and expand into international markets faster. Our partners will enable us to penetrate the insurance markets in Malaysia, Laos, Sri Lanka, South Korea, and Japan," said Kittinan.
He added that the new services would enable the company to significantly penetrate these markets.
Claim Di Assist is a roadside assistance service for drivers, covering towing, fuel, tyres, jump-start, and mobile mechanic; Claim Di Call is an outsourced call service for insurance companies; and Claim Di Bike is a car-accident survey service under an individual-model basis, to facilitate accident surveyors in terms of payment and benefits for policyholder claimants.
All new services are on top of a Claim Di back-end platform that allows easy use of the service via just one app, Claim Di.
"We trailed these new services for three to four months, outsourcing A-Plus Services, a surveyor outsourcing-service provider, to run the services. Then, finally with the capital from series-A funding, we acquired A-Plus Services in order to provide the new services. A Plus has 56 staff, comprising 30 surveyors and 26 call-centre officers," said Kittinan.
Moreover, the company also plans to bring its all services - the three new ones and its current Police i Lert U and Anywhere to ER - to targeted overseas markets next year.
It will work with its partners to penetrate the new markets, he added. "We now have our country manager for Malaysia, and have already started our service there. We have partnered with Digi and Merriment to penetrate the Malaysian market," said Kittinan.
Last year, Anywhere 2 Go received $50,000 from dtac Accelerate and an undisclosed amount from 500 Startups and nine other investors.
The company changed its business model from licensing- to transaction-based, a move that helped Claim Di to increase its market share from 40 per cent to 50 per cent, and increase its customers from 11 to 18 insurance companies, said the CEO.
In terms of start-up funding, the latest series-A financing is quite unique since apart from lead-fund investors, it has also attracted investors from previous rounds as well as Thai private investors to invest in Claim Di, he added.
Anywhere 2 Go has achieved 15-fold growth since it received first-round investment funding last year, Kittinan said.
Ref. nationmultimedia.com
BES i lert u & Claim di at Software Expo Asia 2016.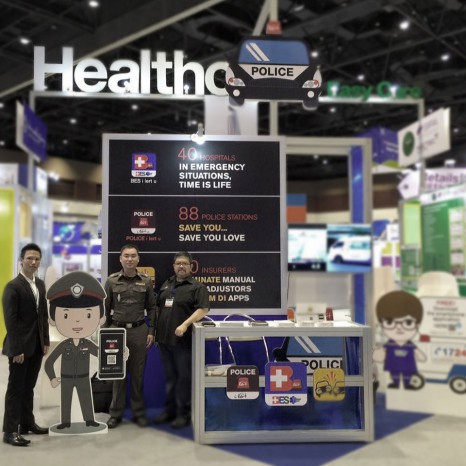 Event name: Software Expo Asia : Digital Integration
Event description: Software Expo Asia is set to be a major annual event in Asia's software industry. It aims to present a fascinating range of software innovations and interesting digital content, as well as, to provide a great platform for business networking among industry professionals and potential buyers.
Date: January 21-23, 2016 Trade day: January 21-22, 2016
Public day: January 23 , 2016
Show hours: 10.00-19.00 hrs.
Venue: Queen Sirikit National Convention Center
Organizer: Software Industry Promotion Agency (Public Organization) (SIPA), Ministry of Information and Communications Technology (ICT)
Software Expo Asia (SEA) aspires to be a major annual event in Asia's software industry. It provides a great platform for business networking among software and digital content providers and professionals.
Visit SEA and be intrigued by a wondrous array of the latest innovations and technologies in the world ofsoftware and digital content. Thrill to fascinating Animation, Games, E-Learning, Applications and Enterprise.
With software from all over Asia, SEA promises to be a great platform where partnerships are established and fostered between industry professionals, software developers and international buyers.
Ref. softwareexpoasia.com